Radical changes in society demand that we reconsider – recode – our approach to teaching and learning.
As once-dominant institutions that defined "education" continue to fragment, a recode to our way of thinking (a new philosophy) is needed. We invite educators, technologists, researchers, economists and supporters to help us shape this philosophy, and to envision the technology that will move us into a world of open learning on a new dimension. This is but one way forward. This is DOLO.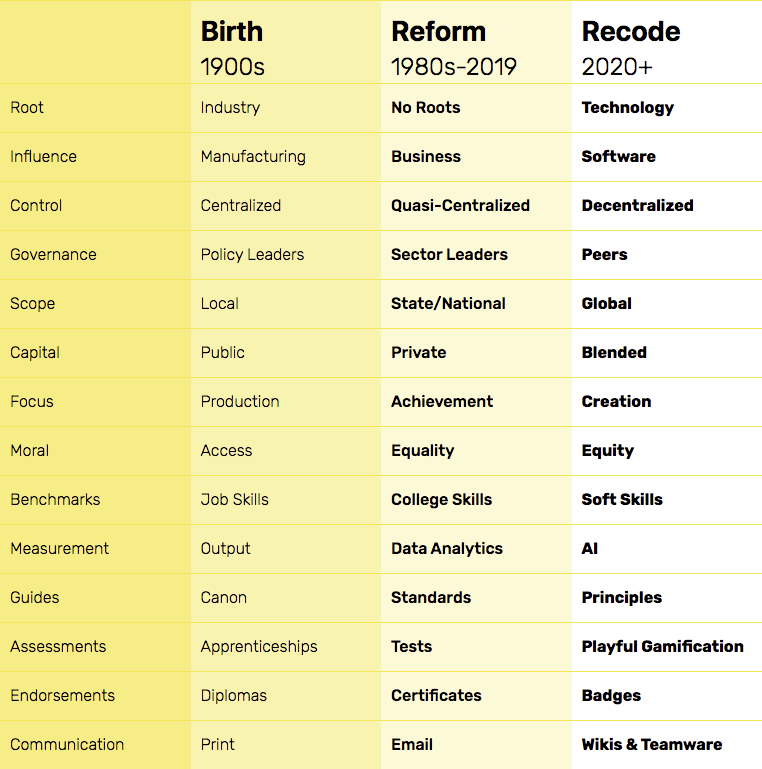 Root
Influence
Control
Governance
Scope
Capital
Focus
Moral
Benchmarks
Measurement
Guides
Assessments
Endorsements
Communication
Industry
Manufacturing
Centralized
Policy Leaders
Local
Public
Production
Access
Job Skills
Output
Canon
Apprenticeships
Diplomas
Print
No Roots
Business
Quasi-Centralized
Sector Leaders
State/National
Private
Achievement
Equality
College Skills
Data Analytics
Standards
Tests
Certificates
Email
Technology
Software
Decentralized
Peers
Global
Blended
Creation
Equity
Soft Skills
AI/Blockchain
Principles
Playful Gamification
Badges
Wikis & Teamware
DOLO is a call to bring together the best ideas into a Decentralized Open Learning Organism. DOLO is a network where educators and technologists come together to envision and iterate an education system, or platform, that mirrors the natural environment. What will that look like? We have no idea, but that's the point. All great ideas start with Genesis.